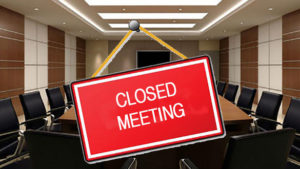 Despite Jeffco's budget increasing by over $75 million in the last three years, in January of 2017 the board surprised 5 communities threatening to close their schools. The board gave communities less than one month to fight to keep their schools open. On February 9th Pleasant View was closed. Without any clear criteria for closing schools, any community could find itself in the same position.
http://arvadapress.com/stories/parents-oppose-school-closure-in-arvada,242468?
https://www.chalkbeat.org/posts/co/2017/01/27/these-five-jeffco-elementary-schools-face-possible-closure-heres-why/
http://kdvr.com/2017/01/26/closing-schools-an-option-to-help-raise-money-for-salaries-in-jefferson-county-district/
The Board threatened to eliminate funding for the GT center program at Wheat Ridge but ultimately decided to fund it for only one more year.
https://www.chalkbeat.org/posts/co/2017/02/08/gifted-and-talented-center-at-wheat-ridge-high-school-on-chopping-block-as-part-of-jeffco-budget-cuts/
This school board proposed a billion dollar tax increase, claimed the state would not increase funds and cuts were needed. In reality, the district has $100 million more dollars to spend than just three years ago, state funding increased significantly and the board had millions more to spend this year. Board members continue to say they need more money but won't say how more money will improve achievement.
Will we see more tax increases?
http://improvejeffcoschools.org/index.php/2017/06/27/be-careful-jeffco-voters-and-taxpayers/
The board allocated $600,000 additional dollars to some high schools with little transparency.
http://improvejeffcoschools.org/index.php/2017/06/14/transparency-in-jeffco-only-if-repeating-the-word-counts/
Why is there a more than a 50% increase in the amount budgeted for "Materials and Supplies Contingency"?
http://improvejeffcoschools.org/index.php/2017/06/06/is-the-board-capable-of-thinking-out-of-the-box-or-why-is-the-board-not-capable-of-any-real-discussion/
Will taxpayers be on the hook for millions more to support district retirement accounts?
http://www.denverpost.com/2017/09/22/colorado-pension-system-32-billion-gap/
Do you know how much projects have gone over budget?
http://yourhub.denverpost.com/blog/2016/10/jeffco-school-building-projects-over-budget/163162/
The 2016 bond ask would have cost tax payers nearly a billion dollars.
http://yourhub.denverpost.com/blog/2016/10/why-jeffco-does-not-need-3a-and-3b/162893/